Camera sewer inspection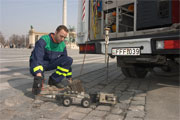 Besides our companys core activities, it undertakes the inspection of household sewer connections and public sewers falling outside of its service areas - against fee payment. With the help of the most modern camera sewer inspection system, we are able to define the reason of the technical problem without digging (above a diameter of 8 cm). We prepare a video footage and a condition inspection report on such inspections. The processing and archiving system connected to the camera and complying with the EU standards makes possible the application of a modern and cost-effective reconstruction planning and execution system.
We perform the inspection of household sewer systems from the cleaning pitch or from the cleaning profile. Our household clients often only face the fact that the construction of their household sewer system was not made in the most professional way during great rains. The flooding of real estates is in many cases caused by irregular connection, bad fitting or the lack of kits preventing flow-back, but obstructing can also be caused by the aging of the sewer network or the deposit of fats.
Advantages of the camera inspections:
it is suitable for the inspection of the smallest diameter sections as well,
exact definition of failure points,
professional and objective definition of the failures,
failure parameterization according to the standards,
the condition can be registered in compliance with the EU standards, in a way suitable for comparison,
an up to date geographical information system (maps) can be prepared and maintained,
a reconstruction planning that can be scheduled and that is cost-effective.
Contact:
Network Department
Sewer Inspection Group
Address:
1087 Budapest, Kerepesi út 21.
Telephone:
(1) 455-4297 head of group
E-mail:
halozat@fcsm.hu